This year, we started out with a long weekend in the beautiful city of Copenhagen in Denmark. Personally, I love a city break at any time of the year, but starting the year out with visiting a new city was the best way to begin the year with some inspiration and settling that travel bug that myself and Vincent had from not doing much of it in 2019.
Copenhagen has been on my 'to visit' list for the longest time and we snagged return flights for around £40pp – Which was an absolute bargain, so before you plan your trip consider doing some research on comparison websites prior to booking anything, there's cheap flights out there! Copenhagen is notoriously known for being an expensive city, which it 100% is in comparison to North England.
Tips & Tricks For Copenhagen
When You Arrive
Something to note if you're a ver last minute person when it comes to arriving at the airport. The airport is massive. I've never seen an airport so big in my entire life. So be prepared to walk for about 10 – 15 minutes for when you exit the airport and vice versa.
Transport from the airport to central Copenhagen is fairly easy to navigate in all honesty. The train terminal is underneath the airport, so finding where to get the train from is fairly simple (once you walk for a decent while.) The train tickets cost around 40 Kroner per person and it takes around 15 minutes.
How Much Money Should You Take?
This is entirely up to you and depends on how extravagant you want to be throughout your trip. I didn't take that much money with me, mostly because we wanted the city break to be fairly cheap with it being not long after Christmas. I took £250 which translated to about 2000 Kroner. Although that seems like a lot of money to spend over 4 days, however an average meal out for 2 (with no alcohol) cost us around 500 Kroner. So keep that in mind if you're planning on eating out for 3 meals a day. We ate out 1-2 times a day and usually just picked up a pastry and a coffee for breakfast to cut the costs of the trip.
How Do I travel Around The City?
There's a few different ways you can travel around the city. A few blogs I read prior to our trip mentioned getting a travel card to use the trains and subways during the trip, however, we didn't buy one in the end. We opted to walk and use the Lime scooters. The scooters work similar to if you've used a city bike (or a Boris bike) here in the UK. You download an app and pay a certain amount per minute for the use of them. The scooters where a fun way to get around quickly. Copenhagen is a city where most people cycle, so it was actually a really fun way to see the city and didn't cost too much at all.
Where To Eat
Espresso House
If you're not wanting to spend too much money on breakfast and want something you can grab & go and still have plenty of choice to kickstart your day. Espresso house is the perfect spot for you. We soon realised that it was a chain cafe as there's more of them than Starbucks throughout the city. But the coffee is really good and the pastries are delicious, so what more could you want for a quick breakfast?
Hey Darlin'
When I was doing the research on where to eat in Copenhagen, I thought the whole concept of Hey Darlin' to be so interesting. It's basically meatball tapas. Sounds crazy but you basically order a type of meatball (we got vegetarian) the sauce, and then a handful of sides such as fries, fresh pasta, salad and even my fave, mash potato! The prices are fairly affordable, especially considering the amount of food you get. If you're after some serious comfort food and a cool, cosy atmosphere, I really think you'd enjoy Hey Darlin'.
Souls
Souls was my favourite place that we ate whilst in Copenhagen. It was NEXT level vegan junk food. The menu choices are great and the atmosphere and staff met my expectations. I even started a conversation with the couple sat next to us because the atmosphere was just so inviting. We got Vegan Cheese & Bacon burgers which I honestly still dream about. For dessert, we then had the Vegan American Pancakes with Dairy Free Ice cream. We ate here on our last evening and we both said that if we'd tried it sooner, we would have eaten there every night. A reminder though, book in advance because it can get very busy!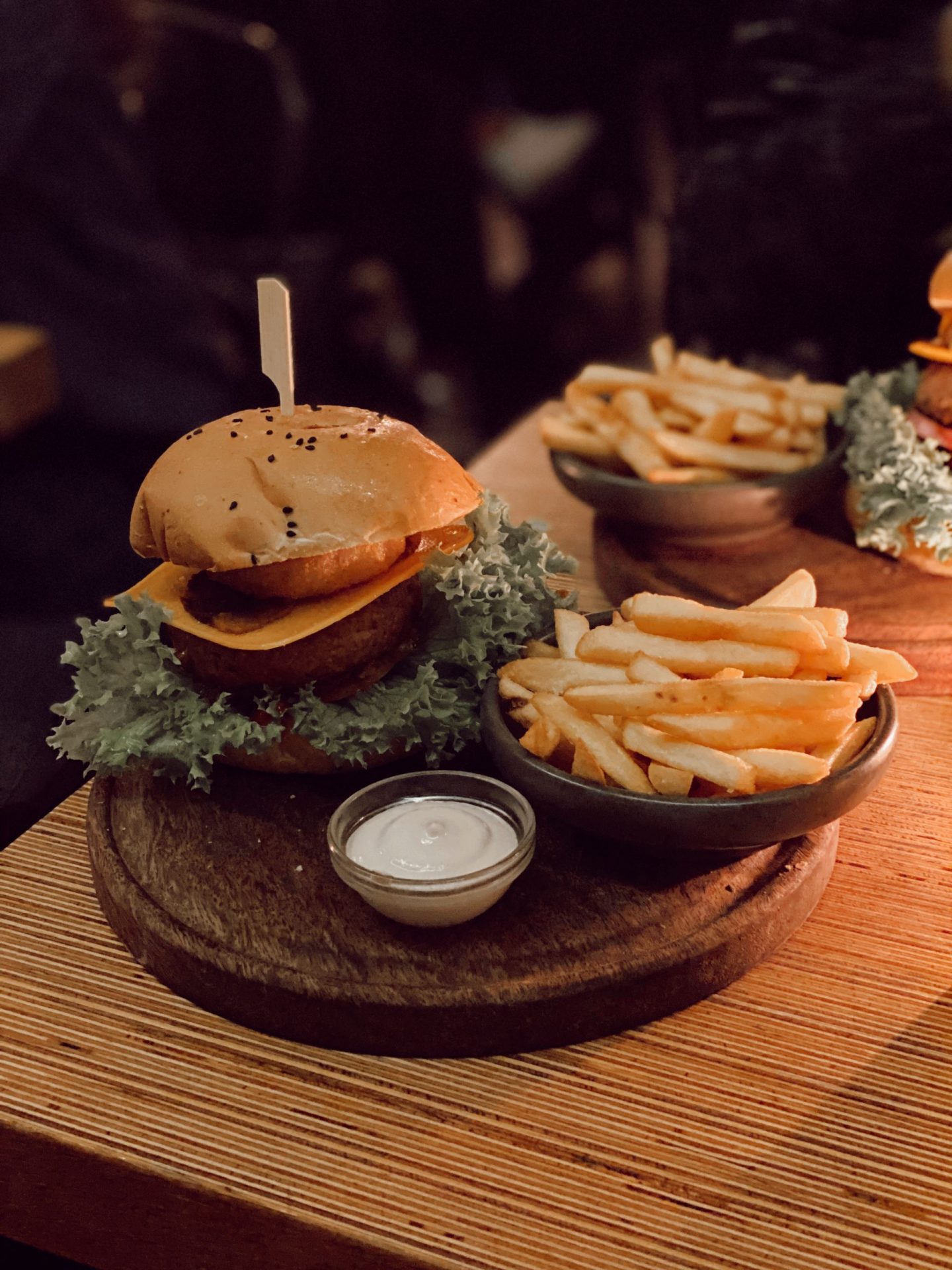 Neighbourhood
Last, but certainly not least we have Neighbourhood. This place was around the corner from our hotel and was our saving grace when I was absolutely starving, but wanted something truly delicious. Neighbourhood specialises in cocktails and pizza however, it's not the average pizza. The pizza's are basically gourmet and sound so strange when you read them from the menu but I was so pleasantly surprised. For a pizza (to share) and a soft drink each, it was fairly reasonable. I did take a look at the cocktail menu and they certainly don't come cheap (in comparison to Liverpool) but I really enjoyed our pitstop there and it was the best and the most interesting Pizza I'd had in a while.
Things To Do in Copenhagen
If you love sightseeing and exploring then Copenhagen is definitely the city for you. There's a handful of wonderful architecture, museums and stunning views, however they all come at a cost. With having to watch our pennies during our visit, we really narrowed down what we wanted to do in order to have enough money.
We attempted to go to the National Museum, however the entry prices where rather expensive and in comparison to over European cities (like Berlin & Amsterdam) the History of Copenhagen wasn't something that really caught our attention. Therefore, we did skip that, if we did have more money and time, we 100% would have went just for your usual tourist / cultural reasons.
The Round Tower
The Round Tower has some stunning views of Copenhagen (see image above). The entire design of he building is a really interesting concept and it was originally built for the cities university for an observatory for a telescope (which is really cool to know). It cost around 50 Kroner each to get in (around £5) and was honestly so much fun and so much more than just a tower. There was an art exhibition on within the building called 'Chose Happiness' which was really great to see, as well as a cafe and numerous views and seating sections as you climb the tower.
The Palm House
Probably a fairly strange place to visit on a trip, however myself and Vincent love plants and flowers and when we stumbled across Copenhagens Palm House, we knew that we'd love it. We have a fairly impressive Palm House here in Liverpool in which we both love, but Copenhagens Palm House was honestly next level in comparison. We paid to get into it, but they do offer student and youth rates for your entry, and it wasn't the expensive at all. The Palm House is located in the Botanical Gardens, so even if you don't fancy going inside and seeing it all for yourself, definitely take a walk through the gardens and see it in person!
NYHAVN
Nyhavn is the place that most people associate with Copenhagen. It's such a beautiful spot to just relax, grab a coffee (or a waffle on a stick like I did) and just enjoy the city. It's really busy around the area, but like I said, It's a busy tourist area with it being so typically 'Copenhagen'
There's a lot of bars, restaurants and cafes in this area, so defiantly somewhere you should head if you're after a bite to eat and you don't really want to research beforehand.
Tivoli
Tivoli is one of the oldest fun fairs in Europe and is probably one of the main attractions in Copenhagen. As we visited in early January, it was unfortunately closed which honestly broke my heart. However, If you're planning a trip, make sure you double check that it's open as so many people on my instagram recommended it and I know I would have absolutely loved it there.
Shopping
There's so many places to shop throughout Copenhagen. There's all your typical shops like Zara, & Other Stories, Monki etc. However, the standout for me, is the amount of amazing homeware and interior stores throughout the city. If I didn't only have hand luggage, It would have been very dangerous for me. There's so many adorable shops like Collage and Artium where you can spend sometime and shelter from the cold and just nosing at bits & bobs. They're hands down my favourite time of stores.
Visit Malmo For The Day
If you're like me and want to fit as many places into your travels and just generally enjoy exploring. Why not take a trip over to Malmo in Sweden. It's about a 30 minute trains journey, doesn't cost all that much (about £40 return, I booked on an app prior to the trip) it also means that you can visit another city and country all in the one trip.
On the day that we decided to visit Malmo, it was a Sunday and just a heads up, on Sunday's a lot of places are closed, so it was a bit of an underwhelming visit, but I seriously think it was down to the fact we'd came on a Sunday. We did however, visit their National Museum which was cheaper than Copenhagens and we looked at some Art & some really strange animal taxidermy for a few hours. We then took a trip to Malmo's food market which was exactly how I'd imagined Malmo to be if everything wasn't closed. There was loads of good food, good vibes and small stores where you could shop local produce. Unfortunately the entirety of Malmo only takes payment by cards and we only had cash (sigh) so out trip was really short, however, still fun considering. So if you do plan on visiting Malmo, don't go on a Sunday & bring a card with you to pay for food!
Until next time x