Finding a skincare routine that works for me can be a battle to say the least. My stress usually shows through my skin and I get a lot of hormonal breakouts, despite being in my mid-twenties, I still struggle with my skin. Although our bodies will do what they need to do and deal with stress in the ways that they will, I've recently discovered and implemented a skincare routine that works really well for my stressed-out skin and keeps it at bay during those times.
Although not everything that works for me may work for you, but, hopefully this can help in some way if you're like me and want a simple routine that actually works.
Recently, I've been trying out a collection of Ole Henriksen products that I picked up in Copenhagen airport at the start of the year. I'd never heard much or tried out the brand before, but something just really stuck out to my about the brand ethos and the products on display just really caught my eye.
Ole Henriksen is a danish skincare brand that was created in the countryside. They have a really simple, yet joyful approach to skincare, which I love. I don't tend to get on with anything that's too artificially scented or gimmicky, I like my skincare simple, natural and as beneficial as possible – But who doesn't, really?
Step 1: deep cleanse
On a daily basis, I don't tend to wear makeup, however if I do, I do a pre-cleanse to remove any remaining makeup, but the usual first step in my skincare routine is a deep cleanse. I use the Ole Henriksen Oil Control Cleanser with my silicone cleansing head to give my skin a good clean. I use the cleansing tool as a way to keep the oils in my skin at bay and give my pores a good clean morning and night, as dealing with oils is my biggest concern when it comes to my daily skincare. The tool has a silicone head with is WAY more hygienic than a usual cleansing brush head as silicone doesn't hold any bacteria. I absolutely love this cleansing brush and have been using one for almost a year now and I've really noticed the difference in the appearance of my skin and pores.
Step 2: Tone
I have a few toners that I absolutely love. You'll all know by now that I've been OBSESSED with the Pixi Glow Tonic for years now and It's still a firm favourite. However, lately I've been trying out the Dark Spot Toner from of course, Ole Henriksen. This toner is my main competitor with the Pixi glow tonic. It helps with any dark spots and also works as a light daily exfoliant.

I simply lather up a reusable cotton pad (I get mine from Pretty Eco on Amazon) and swipe it gently across my face and you're golden.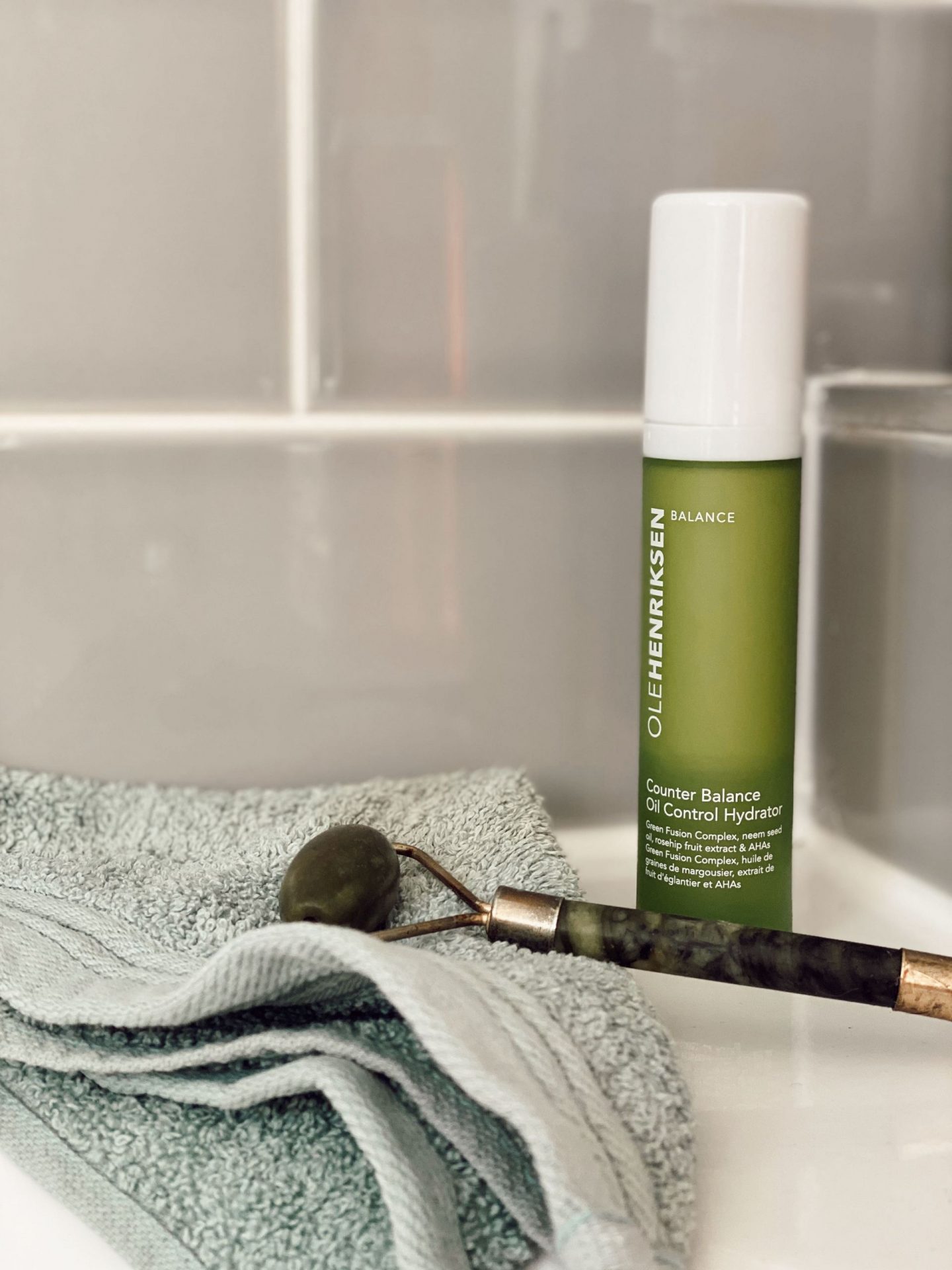 Step 3: oil control
You may be thinking why on earth would I want to control the glow of my skin, but my skin can be beyond oily, especially when wearing makeup with additional oils. I don't like to use anything that feels as though it's stripping my skin and sometimes with oil control products, you get that overly-matte & unnatural finish, which I simply don't like or think looks good under makeup. I've been using Ole Henricksen Oil Control Hydrator as it's that perfect balance. It reduces the oil build up in my skin, but doesn't leave my skin feeling as though it's completely lacking in moisture.
I simply lather an almond size amount onto my hand and gently pat and smooth the product into my skin. If I'm applying during the morning and before work, I tend to use a jade roller just to help the product soak in when I'm rushing to get to work, but to also reduce puffiness in my skin from having less sleep than anticipated.
STEP 4: PROTECT & HYDRATE SOME MORE
With having oily skin, sometimes it can feel as though adding more moisture isn't the best idea. However, no matter what your skin type is, it's so important to hydrate your skin morning and night (i'm sure you don't need to hear this from me, but here's your reminder to MOISTURISE!)
I was kindly gifted the Transformulas Marine Miracle Creme and it's completely changed the hydration game for me. I can notice the difference in my complexion and simply find that makeup looks so much better when I've applied the creme underneath. It's a very thick and rich creme, which I'm not really familiar with, as I usually opt for a water base moisturiser, but I love this, especially of an evening when my skin is feeling wacked from a long day of work. It really is the miracle I've been looking for!
SHOP MY SKINCARE FAVES
Until next time x