Since I've been on a no-fast-fashion / fashion ban in general, I've naturally been gravitating towards jewellery and accessories and changing up my outfits, with the power of some stunning necklaces and rings. I honestly think that a piece of jewellery can truly make an outfit and give it that certain special touch that sometimes, a simple outfit needs. Although I've not been purchasing an abundance of jewellery, I feel as though at the moment, I have a good little collection going that contains some statement and some understated jewellery pieces that match so perfectly with my personal style.
I haven't always been a jewellery kind of gal, but over the last 5 years, my collection has pretty much doubled in size and each day, I am genuinely excited to put on and match with my outfit that day. With this in mind, I thought I'd share some of my go-to jewellery pieces that I've been obsessing over recently and some amazing brands that you should add to your radar.
July's Child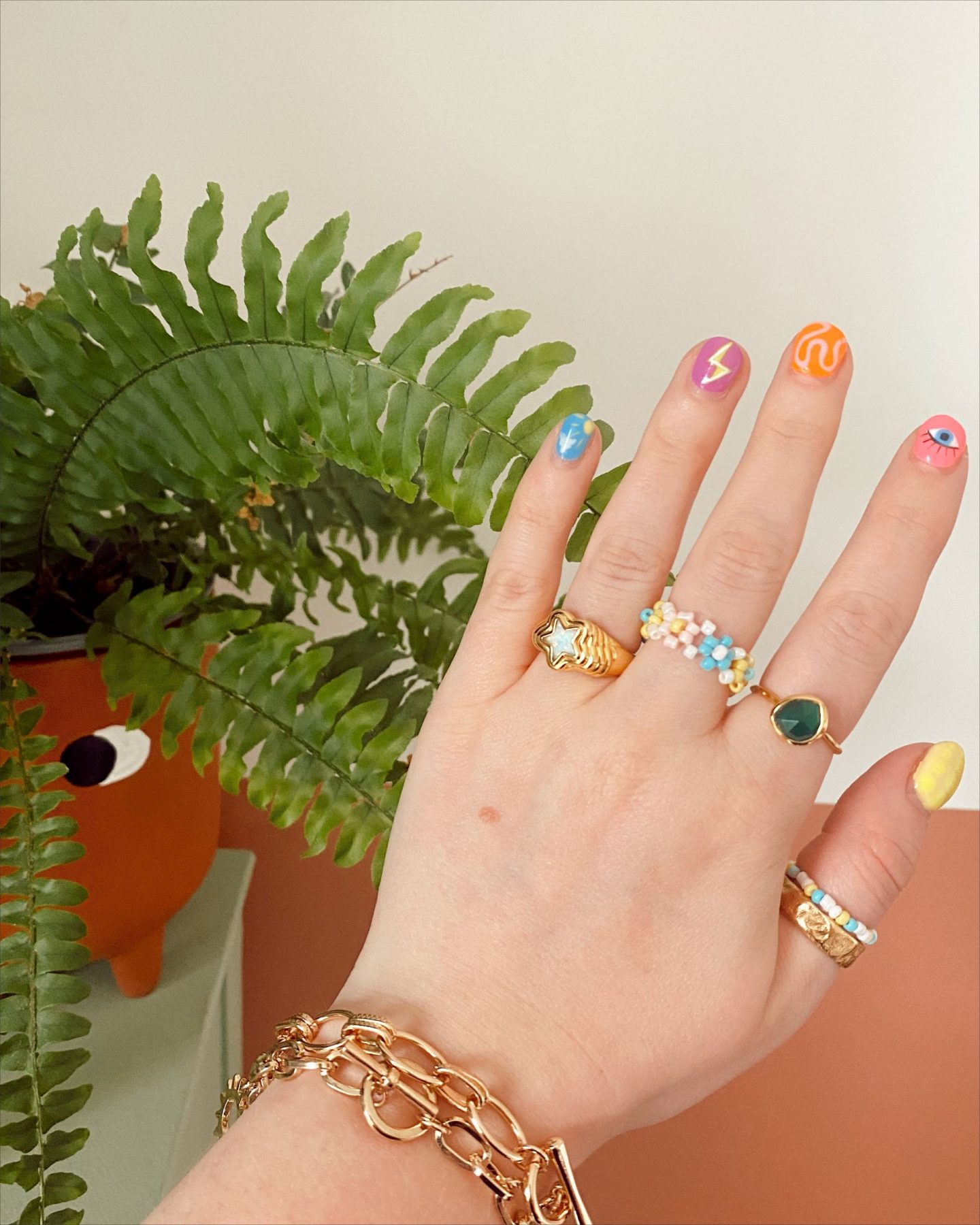 July's child is a brand that's been on my radar for a while, however, I'd never purchased anything from them because they're not exactly cheap. However, over the past few years, I've begun to understand the importance in being jewellery that is decent in quality and will stand the test of time. Am I trying to justify this purchase…maybe. On the grand scheme of things though, £100 for a statement ring isn't too bad, right?
The Starstruck Opal Ring was a little treat to myself a few months back, just for working hard and getting a new job earlier in the year, as I'd not treated myself to anything as of yet. The ring is really sturdy and comfortable to wear. Although it's a statement ring, it doesn't feel to heavy of overbearing on my tiny-child-sized hands. I love how it looks with my other gold plated rings and I think it just compliments my outfits too.
Ottoman Hands
You know me, I'm OBSESSED with layering necklaces and using colourful stones and beads to add something interesting to my looks, and these necklaces from Ottoman. Hands (gifted) are everything I've ever wanted and more. Their range of necklaces is so extensive and theirs a style and price point for absolutely everybody. I've fairly new to the Ottoman brand, but can 100% see myself being a life customer.

Ottoman Hands is a British fashion jewellery brand founded on values of historic craftsmanship, reimagined with contemporary elements of bold, fun and beautiful fashion trends. They have a Zodiac and Alphabet collections which would make beautiful gift for friends or a loved one.
I'm wearing their Capricorn Zodiac Necklace and their Riva Pearl and Turquoise Beaded Necklace which I've layered together to pull out the shades of blue in my dress and I know I say it a lot, but I'm actually obsessed.
Daisy London
This is a brand that I've been a fan of for quite a few years now. I've been gifted a few things from the brand and also asked for some of their pieces as Birthday and Christmas presents too. They're just so beautiful and simple, however the detail is always impeccable.
I first discovered the brand through their collaborations with Estee Lalonde and the love affair started there, ever since then I've worn something of their pretty much every day.
I particularly love their rings, they're really easy to stack to make them look more statement, or simply wear them on their own for that super cute minimal chic vibe.
Monica Vinader
Another brand that I've admired from afar for some time now, but finally was very kindly gifted something from their beautiful collection earlier this year. Monica Vinader is a brand that I heard of a good few years ago through my favourite influencers and ever since then I've watched the brand closely and admired pretty much every launch they've dropped since.
The thing I love about Monica Vinader is how simplistic their pieces are, but they also have some pieces that are chunky and almost Greek Goddess-esque. When I browse through some of their recent collections, I envision myself in a white linen dress, sipping an Apersol Spritz in Greece, which is aaaaaalll the vibes and Hot Girl Summer energy you could ever need.
I have one of their Siren Stacking Rings in a beautiful emerald green colour that is just to die for. The combination of the green stone and the vintage gold band is honestly everything I could want and more. I also wear a pair of their hugge earrings in my 3rd lobe piercing everyday, it literally never comes out as it's so comfortable to wear and compliments my other everyday hoops so nicely.